Norway's Minister of Research and Higher Education, Iselin Nybø, is leading a huge delegation of university leaders and scientists on a visit to Beijing and Shanghai, to deepen Norwegian-Chinese research cooperation. The visit is being hosted by China's Minister of Science and Technology, Wang Zhigang. The scale of the delegation is unprecedented – Nybø is being accompanied by a formal delegation of 23 university and other science institution leaders and 225 scientists.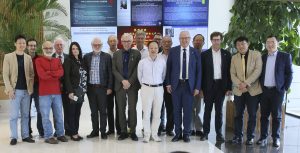 The programme has been organized by the Norwegian Centre for International Cooperation in Education (SIU) and the Research Council of Norway on behalf of the Ministry of Education and Research.
In the autumn of 2017, the SFFs PoreLab and QuSpin signed an agreement with the Beijing Computational Sciences Research Center (CSPC), which is one of China's foremost research institutes in the field of Scientific Computation. UiO is also a partner in the partnership through PoreLab.
Professor Alex Hansen at NTNU PoreLab is an important person in the collaboration between NTNU and CSPC. For many years he has had research collaboration with the Center. Since 2015, he has been associated with CSPC as a visiting researcher and spends two months a year here. On the first day of the collaboration he held an engaging lecture for invited students about SFF PoreLab's research.