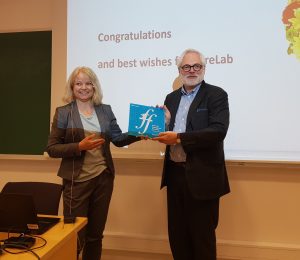 The official Norwegian Centre of Excellence plaque was presented to Centre Director Alex Hansen from Senior Adviser Liv Furuberg from The Research Council of Norway. The seminar was official opened by the State Secretary Rebekka Borsch from Kunnskapsdepartementet (Norge). Researchers, students, representatives from NTNU and others showed up to celebrate PoreLab .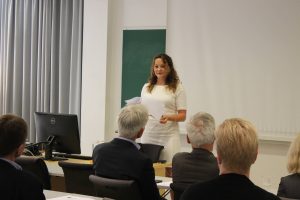 Program
10:00: Alex Hansen, PoreLab Director.
10.05: Rebekka Borsch, State Secretary, Ministry of Research and Higher Education.
10.15: Liv Furuberg, Special Adviser and responsible for the Centers of Excellence, Research Council of Norway.
10.25: Bjarne Foss, Pro-Rector for Research. NTNU.
10.35: Olav Bolland, Dean, Faculty of Engineering. NTNU.
10.45: Karina Mathisen, Vice Dean for Education. Faculty of Natural Sciences, NTNU.
10:55: Egil Tjåland, Head of Department of Geoscience and Petroleum, NTNU.
 11.15: Alex Hansen, Why Porous Media?
12.00: Lunch
13:00: Eirik Grude Flekkøy, Deformable Porous Media and Giant Labyrinths.
13.15: Fredrik Kvalheim Eriksen. How do fluids find their way through the ground?
13.30: Morten Vassvik, Modeling Porous Media.
13.45: Carl Fredrik Berg. PoreLab related work at Department of Geoscience and Petroleum.
14:00: Kim Roger Kristiansen Harvesting of Low-Grade Waste Heat Using Salt Power Plants.
14.15: Astrid Fagertun Gunnarshaug. Local Heat Effects in Li-ion batteries.
 14:30: Signe Kjelstrup: Closing words.