Text by Marco Sauermoser
The 2nd PoreLab Junior Forum was held in Trondheim in the PoreLab facilities on the 20th and 21th of September, 2018. Again, the goal was to improve the connection between the two different locations of PoreLab, which is an important priority for us. It allows to get to know each other and find additional synergies. The forum took place on two days (see agenda here).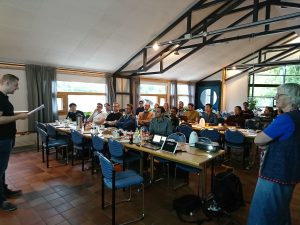 2nd PoreLab Junior Forum – Plenary session (Photo: Marie-Laure Olivier)
The first day, several PhDs and PostDocs presented their current research and gave a short introduction about themselves for new PoreLab members, which lead to fruitful discussion. On the second day we went to the laboratories of PoreLab and made a visit to NTNU's NanoLab.
Again, the forum showed, that by having these simple forums two times a year, the big distance between the offices can be overcome at ease and we can work together as we were in one location. The expertise of different members of PoreLab can therefore be combined, showing the big strength of this center of excellence. Furthermore, it is important to see, which experiments can be done within the research group.
In the laboratories we saw a variety of different experiments:
Core sample experiments like permeability measurements, flooding and enhanced oil recovery experiments.

Micro-CT experiments for the non-destructive investigation of core samples

Microfluidics setups for the imaging and analysis of flow and saturation

Fuel cell test station for performance curve measurements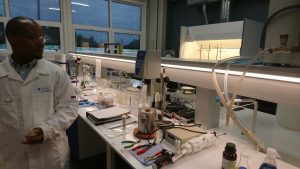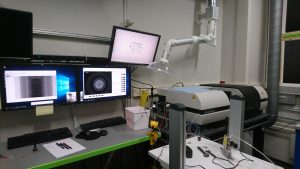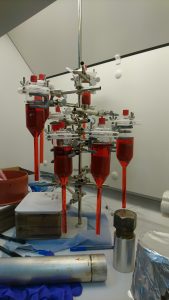 Visit of the PoreLab laboratories (Photos: Marcel Moura)
After the visits of the PoreLab laboratories, we had the pleasure of having a look at the clean rooms in NTNU's NanoLab. Here we were shown different sorts chemical and physical methods, including coating, lithographic processes and imaging with different forms of microscopes.
We had a dinner together at Egon Tårnet on the evening of the first day.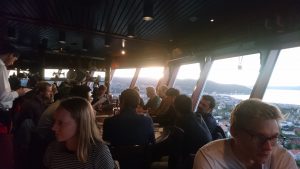 Dinner at Egon Tårnet (Photo: Marcel Moura)
Summarized it can be said, that the 2nd PoreLab Junior forum was a big success and the tradition will be kept also in 2019.
(Text by Marco Sauermoser)