Entering and subsequently winning awards makes our community working for the understanding, description, and modelling of porous media systems shine. You find below a list of awards received by our colleagues these last years.
InterPore – PoreLab Award for young researchers
The International Society for Porous Media, InterPore, on behalf of PoreLab, a center of excellence jointly formed by the Norwegian University of Science and Technology (NTNU) and the University of Oslo, announces a Young Researcher Award in recognition of outstanding contributions in the field of porous media from a fundamental point of view.  The research may be theoretical, computational, or experimental.
Nominees must be PhD students or Postdoc researchers who obtained the PhD degree no longer than 3 years before the award nomination deadline and must be an InterPore member.  The nominee must declare that he/she is able and willing to spend a total of three months in the course of the next academic year with the PoreLab in Norway. A detailed commitment from the awardee (including the agenda of the visits to PoreLab agreed with PoreLab) must be submitted to InterPore before the Award Ceremony during the InterPore meeting; the conferral of award will occur only if such a commitment is provided.
Nomination packages should include full CV of the candidate, a nomination letter including explicit reference to the contributions to the field, up to two additional supporting letters, and related documentation (publications, reports) supporting the nomination. Nomination packages should be submitted to nomination@interpore.org. Self-nomination is not accepted. Deadline for the receipt of complete nomination packages is November 15 of each year. The Award will be presented at the InterPore annual conference of the following year.
Award winners to date here.
Award winners will be given a stipend of 1500 Euro per month for up to three months in residence at PoreLab, either at the NTNU or the University of Oslo.  PoreLab will pay the travel and housing expenses connected with the stay.
IMPORTANT: Deadline for submission of complete nomination package: November 15 of each year.
The winner of the InterPore – PoreLab Award for young researchers in 2021 is Maja Rücker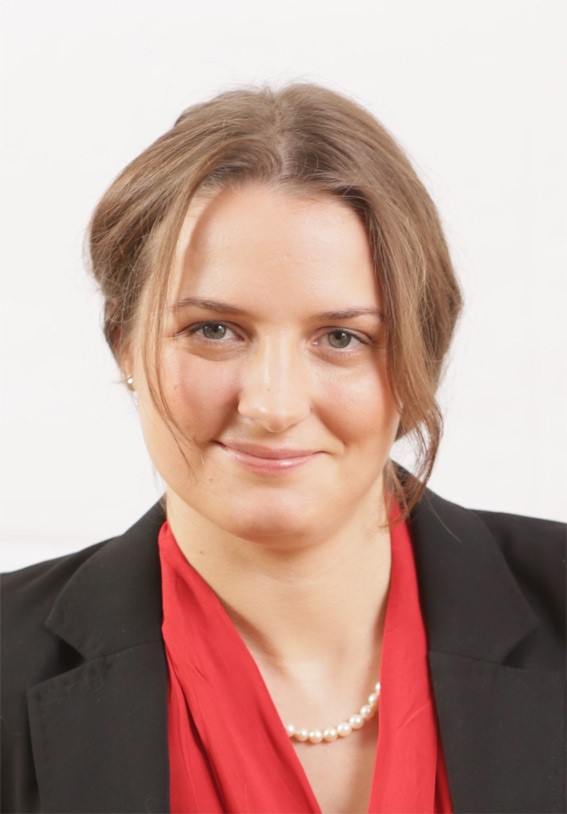 This year InterPore reported having a large number of high-quality nominees leading to a strong competition, but the members of the Honors and Awards Committee have made their choice. The InterPore-PoreLab award for young researchers goes to Dr. Maja Rücker from the department of Mechanical Engineering at Eindhoven University of Technology, the Netherlands.
Congratulations!
Maja received her PhD in Petroleum Engineering in a joint project of the Rock & Fluid Physics team at Shell Global Solutions International B.V. and Imperial College London. She hold a BSc and MSc degree in Geoscience from the Johannes-Gutenberg University, Mainz. She worked from 2018-2020 as a Research Assistant and later as Research Associate in the Chemical Engineering Department at Imperial College London. In November 2020, she joined the Energy Technology group at the Mechanical Engineering Department at the Eindhoven University of Technology as an Assistant Professor.
Maja summarizes her research activities as follow:
"Treatment and development of sub-surface fluid reservoirs in rocks, such as aquifers, hydrocarbon reservoirs, H2 or CO2 storage sites, is crucial for the reduction of stress on water supply, energy demand, climate and environment. Insight in how fluids behave within the confined space of the porous rock is key for decision-making processes in the associated applications.
I study molecular interactions of fluids within porous materials and how these link to the macroscopic flow phenomena (incl. multiphase flow responses, reactive transport), develop integrated experimental workflows for upscaling and advance digital modelling approaches used, e.g. to assist decision making for effective utilization of sub-surface resources"
Maja is also one of the initiators of the very successful Tea Time Talks. Check here: https://porelab.no/events/
The winner of the InterPore – PoreLab Award for young researchers in 2020 is Hamed Aslannejad
Based on the recommendation of the Awards Committee of the International Society for Porous Media (InterPore), Dr. Hamed Aslannejad has been selected to receive the InterPore – PoreLab Award 2020 for Young Researchers.
Hamed is a post-doc researcher at Utrecht University in the Netherlands. His current research concerns the interaction of water-based inks and paper in inkjet printing. Among other aspects, he investigates the motion of ink pigments into paper layers using pore-scale models. The research results will be used to develop a novel class of inks for high-quality inkjet printing. Hamed received his Ph.D. in January 2019, from Utrecht University with the distinction of cum laude (the highest distinction for a PhD degree in the Netherlands). His thesis was titled "Imbibition into a thin porous medium: an experimental and pore-scale modeling study of coated paper". Hamed has 18 publications with a total citation count of 115.
Congratulations!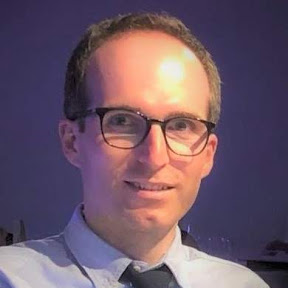 The winner of the InterPore – PoreLab Award for young researchers in 2019 is Tom Bultreys
Dr. Tom Bultreys, from Ghent University, Belgium, has contributed significantly to the field of pore-scale imaging and modeling. During his PhD, he developed a multi-scale network model to describe rocks with a very wide range of pore sizes. New concepts were developed, which have already found commercial applications. In his subsequent work at Imperial College, Bultreys worked on the validation and calibration of pore-scale network models. He developed a methodology to compare model and image experimental results on a pore-by-pore basis, providing a much richer basis of comparison that had been possible hitherto with simply the comparison of average results. His work laid the framework for a proper validation of models. Bultreys has co-authored 17 well-written papers. He is an active member of InterPore.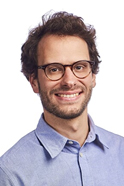 Tom writes about the award:
"I am extremely honoured and humbled to accept this award. Interpore has played an enormously important role in my research career, and will continue to do so. That makes this award all the more valuable and special to me. I look forward to a fruitful collaboration with PoreLab and to continue contributing to the Interpore community to the best of my abilities."
Tom came for a short visit in PoreLab Trondheim in January 2020. He came to visit different PoreLab teams and to scope out specific collaborative projects. The program for his visit can be found here. A workshop was organised on January 13th, 2020, and the agenda is available here. He plans longer stays in the course of 2020.
The winner of the InterPore – PoreLab Award for young researchers in 2018 is Qingwang Yuan
InterPore – PoreLab Award for Young Researchers goes to Qingwang Yuan, a postdoctoral fellow at the Department of Energy Resources Engineering, Stanford University. Qingwang Yuan holds a Bachelor of Business Administration, a Bachelor of Science and a Master of Science from the University of Petroleum East China and a Doctor of Philosophy from the University of Calgary (2015).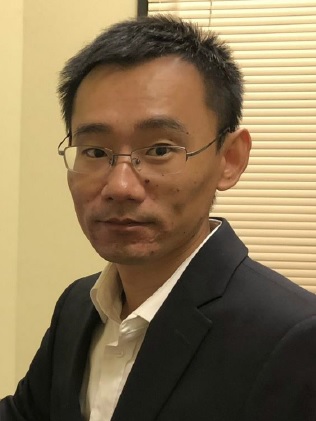 He was a recipient as well of Mitacs Award for Outstanding Innovation in 2017. Read more at InterPore: 2018 Award Recipints, or University of Regina: Advancement and Communication
Onsager Professorship 2019
The distinguished scientist selected for the Onsager professorship this year is Daan Frenkel from the University of Cambridge. He received the Onsager silver medal on Nov.7, and gave the lecture "Entropy and complex assembly" in front of a full auditorium.
The Onsager professorship of NTNU is the last honor, in a series of almost 30 honors, awards, or named lectures that Frenkel has received. The formidable list include the highest honor available in statistical physics, the Boltzmann medal in 2016. This autumn we are happy to benefit from Daans deep knowledge in all fields relevant for the vision of PoreLab; to create a non-equilibrium statistical thermodynamic description of flow in porous media.
About the lecture
A holy grail of nano-technology is to create truly complex, multi-component structures by self-assembly. Thus far, much of the experimental work has focused on the entropy-driven creation of "structural complexity" – an approach based on Onsager's insights.
In Daan Frenkel's talk, he will discuss "Addressable Complexity": the creation of structures that contain hundreds or thousands of distinct building blocks that all have to find their place in a 3D structure. 
Even though the relevant interactions in such structures are mainly energetic, simulations yield surprising insights that highlight the importance of entropy in the interaction of particles with many binding sites. 
These principles may even help us find ways to distinguish harmless and pathogenic bacteria.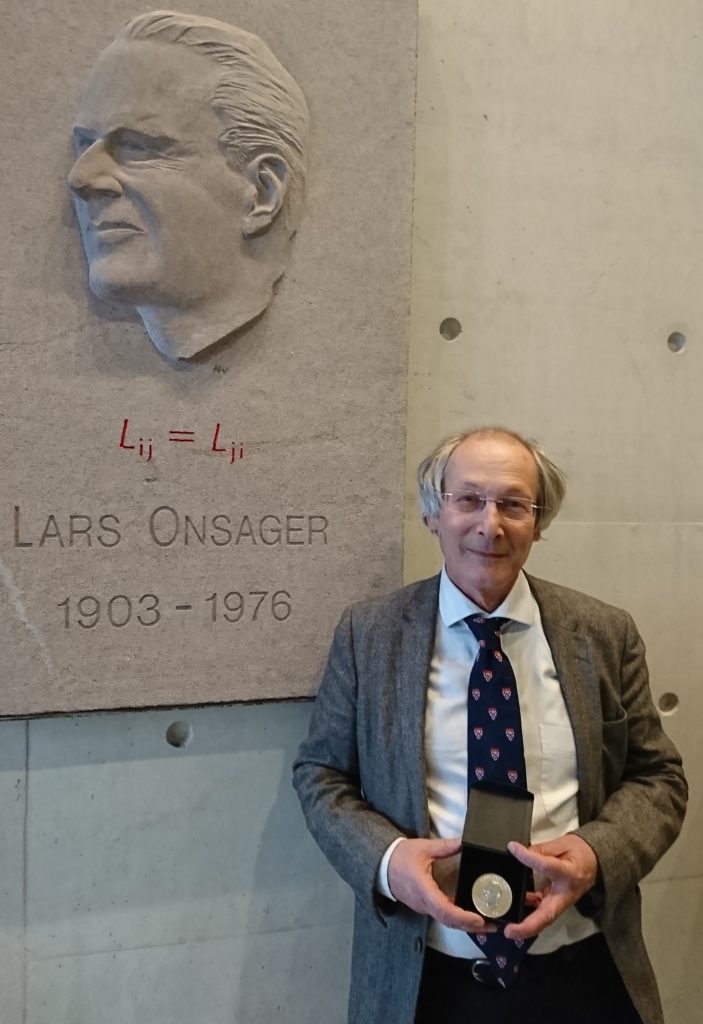 About The Onsager Professorship
The Onsager Professorship is each year awarded to an outstanding researcher, to honor Lars Onsager. 
Lars Onsager was a Norwegian-American chemist and physicist, who started out as a student at NTH (Norwegian Institute of Technology, later NTNU Norwegian University of Science and Technology), and later went on
to win The Nobel Prize in Chemistry 1968 for his work done in 1931 on irreversible thermodynamics.
The Lars Onsager Lecture and the Lars Onsager Professorship are each year awarded by the Onsager Committee at NTNU.
As the 2019 Onsager Professor, Daan Frenkel is a guest professor at PoreLab Centre of Excellence (SFF) at NTNU and UiO.
Read more about the Onsager lecture and professorship
More awards…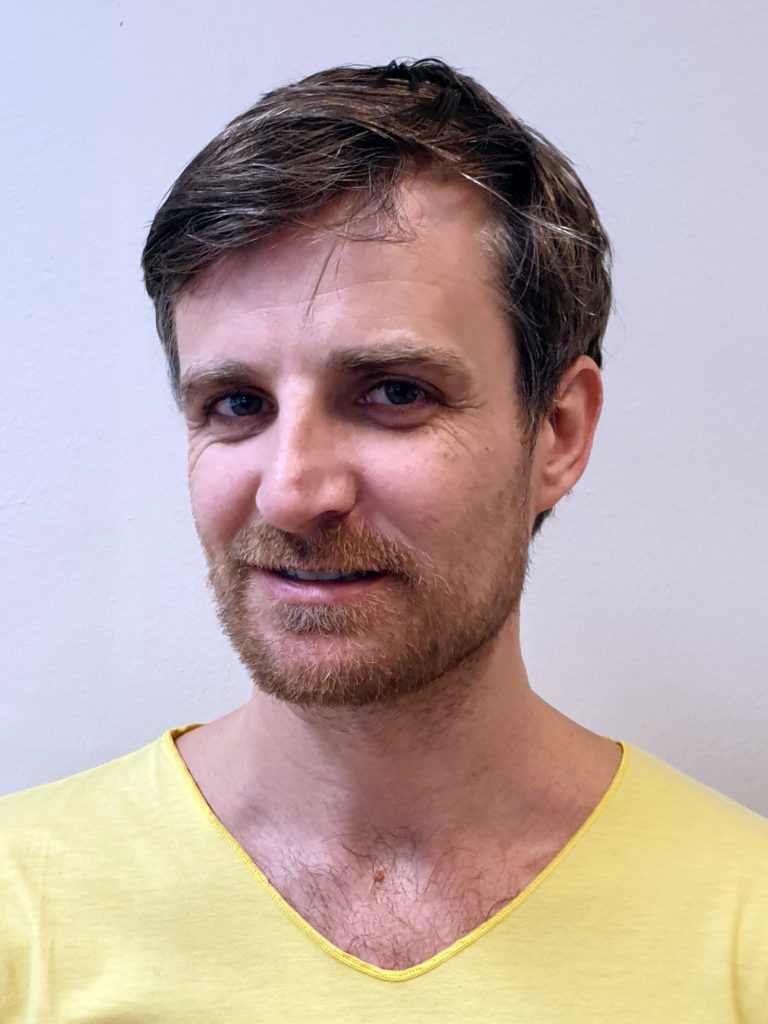 June 2021
Joachim Falck Brodin was awarded the Martin Landrø prize for outstanding master thesis in physics from the Norwegian Physical Society (Norsk Fysisk Selskap – NFS). He received his prize on June 24th. 
The Martin Landrø prize for outstanding master thesis in physics was established by NFS in 2011 based on a gift of NOK. 150,000 from Martin Landrø. The price consists of NOK 5,000 as well as a diploma, and is awarded during the NFS annual meeting every second year.
His master thesis is entitled "A new vision for 3D experiments on flow in porous media". 
Read more about Joachim's master here: https://www.tu.no/artikler/splitter-ny-3d-skanner-folger-vaesker-fra-hulrom-til-hulrom/492141
Joachim is now PhD candidate at PoreLab/UiO.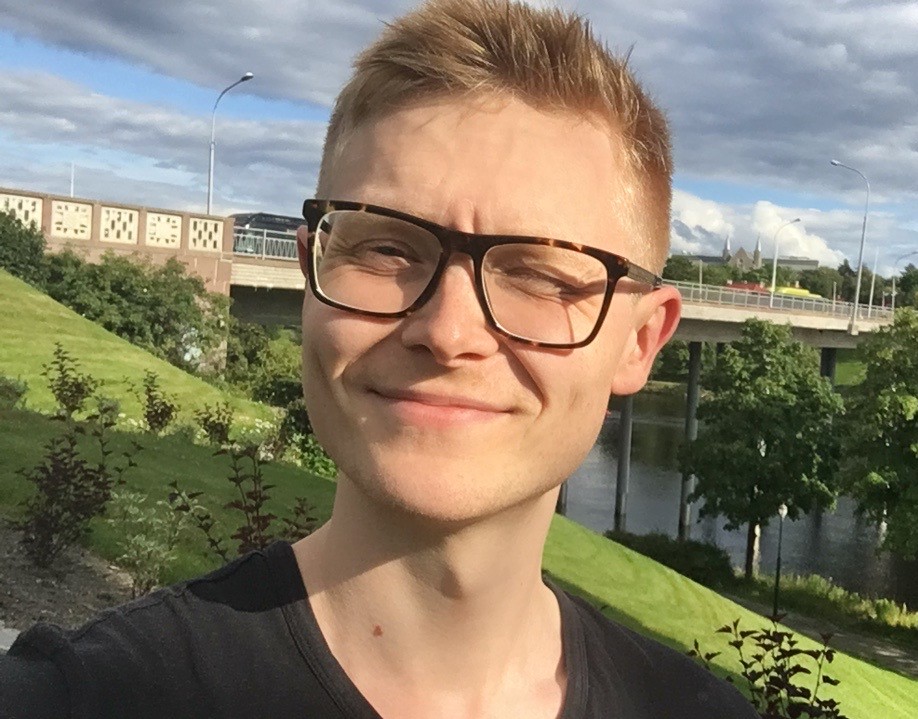 June 2021:
Ailo Aasen's PhD thesis has been awarded the Excellence Award in Thermodynamics and Transport Properties from the European Federation of Chemical Engineers (EFCE). 
The thesis is entitled Bulk and interfacial thermodynamics of mixtures: From aqueous systems to ultracryogenic fluids.
To find out more, read the EFCE press release
More info here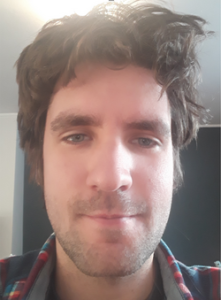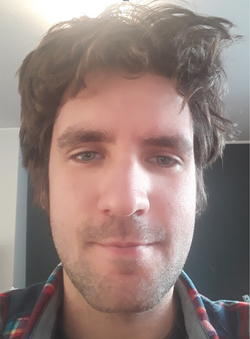 Tom Vincent-Dospital
Tom Vincent-Dospital, Postdoc research at PoreLab UiO, was awarded the Prix de Thèse de l'Université de Strasbourg 2020 (i.e. the PhD Prize of the University of Strasbourg).
Tom performed his PhD in geophysics and fracture physics from 2017 to 2020 as a Cotutelle between the Institut de Physique du Globe de Strasbourg, ITES (France) and PoreLab at the department of physics, University of Oslo, Norway.
The title of his PhD is: Interfacial fractures : thermal effects and material disorder.
More information here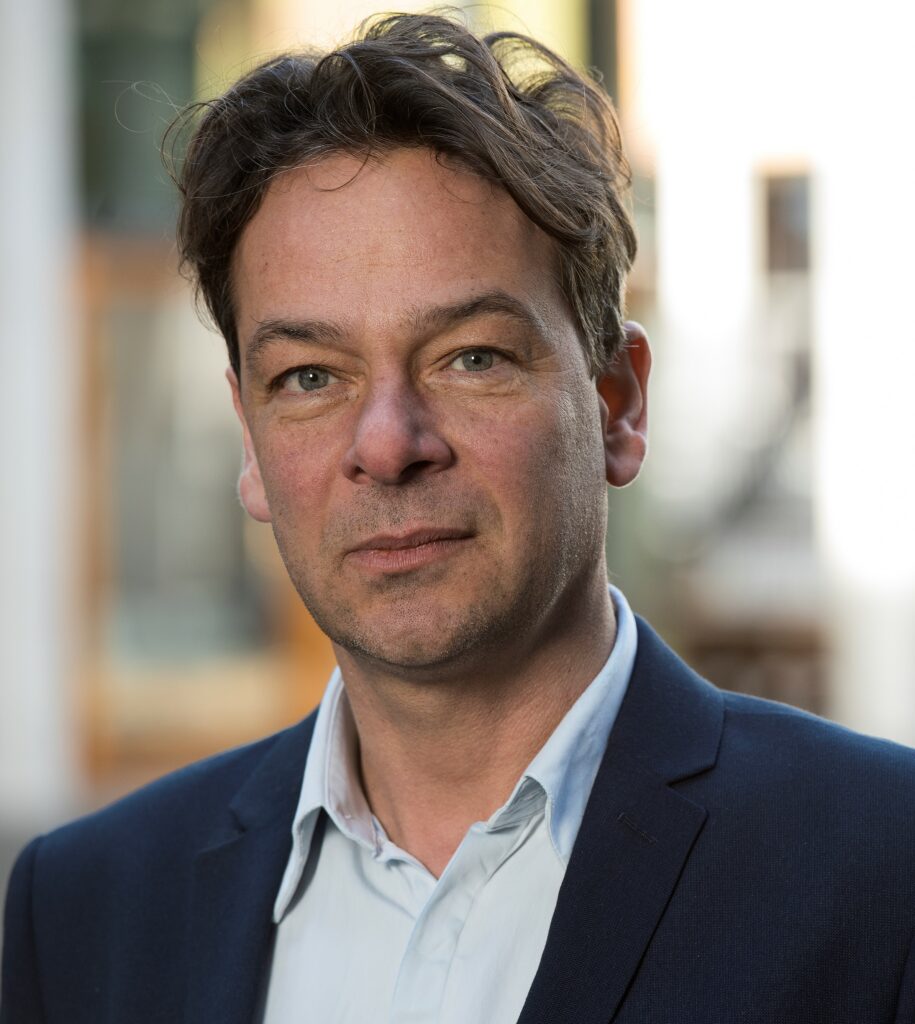 Daniel Bonn
Professor Daniel Bonn of the University of Amsterdam was awarded the Physica Award 2021 by the Dutch Physical Society. Professor Daniel Bonn is a member of the PoreLab Scientific Advisory Board (SAB). He is a well-know expert in soft matter. Bonn receives the prize at the online conference FYSICA 2021 on Friday 16 April, 2021, when giving the Physica Lecture. More info here.
The Physica Award is awarded yearly to an eminent physicist working in the Netherlands, after consultation with representatives of the physics community in the Netherlands, by a jury consisting of the chair of the Nederlandse Natuurkundige Vereniging, the Stichting Physica and a previous winner.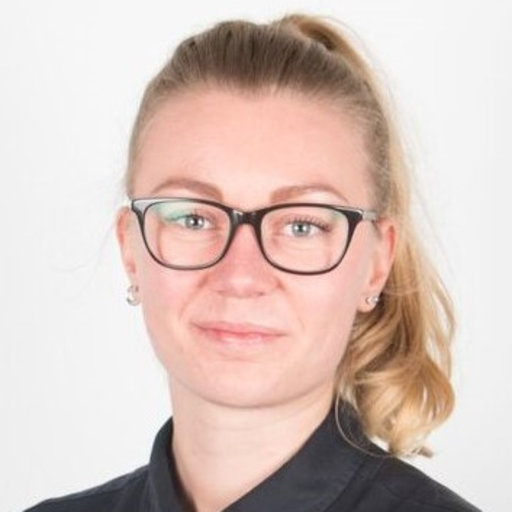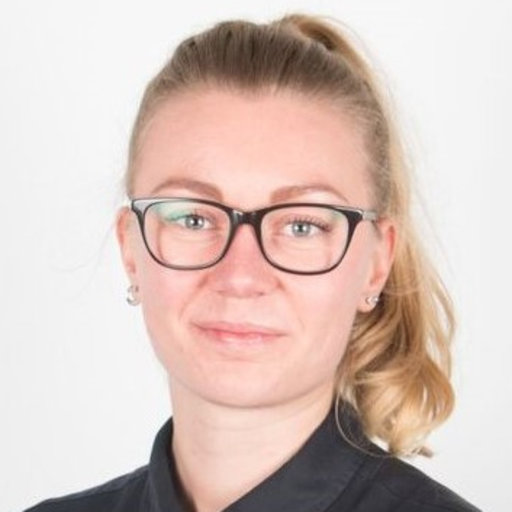 Vilde Bråten
Vilde Bråten, PhD candidate at PoreLab and at the department of Materials science and engineering at NTNU, was placed second in the national finale in Researchers Grand Prix 2020. She hold a presentation on nanothermodynamics. The contest consisted of one regional finale in Trondheim, Norway, and one National  finale. In both finals she presented two four minute presentations. More information here and here.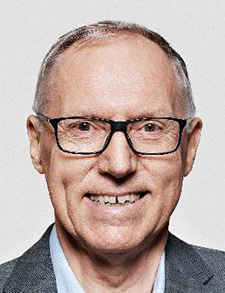 Ole Torsæter
Ole Torsæter, Professor at the department of Geoscience and Petroleum at NTNU (Norwegian University of Science and Technology) got the SPEs "Regional Management and information award". SPE's regional awards are intended to recognize those members who've contributed exceptional service and leadership to the society, as well as those who've made major professional contributions to their technical disciplines at the regional level. These awards are presented at region and section meetings. The regional award recipients become candidates for the equivalent international award in 2019.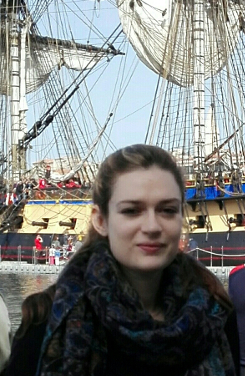 Eve-Agnès Fiorentino
The 2018 PhD prize of the French chapter of InterPore goes to Eve-Agnès Fiorentino. More information at l'Université de Strasbourg: Actualités.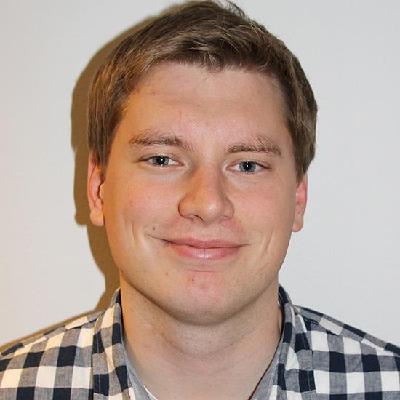 Øivind Wilhelmsen
Øivind Wilhelmsen got an award from the Research Council of Norway for excellence in research. The award represents 500 000 NOK and was shared on March the 1st, 2018. More information at Sintef: Siste-nytt.
Completed PhDs
Name
Department
Date
Thesis
Supervisors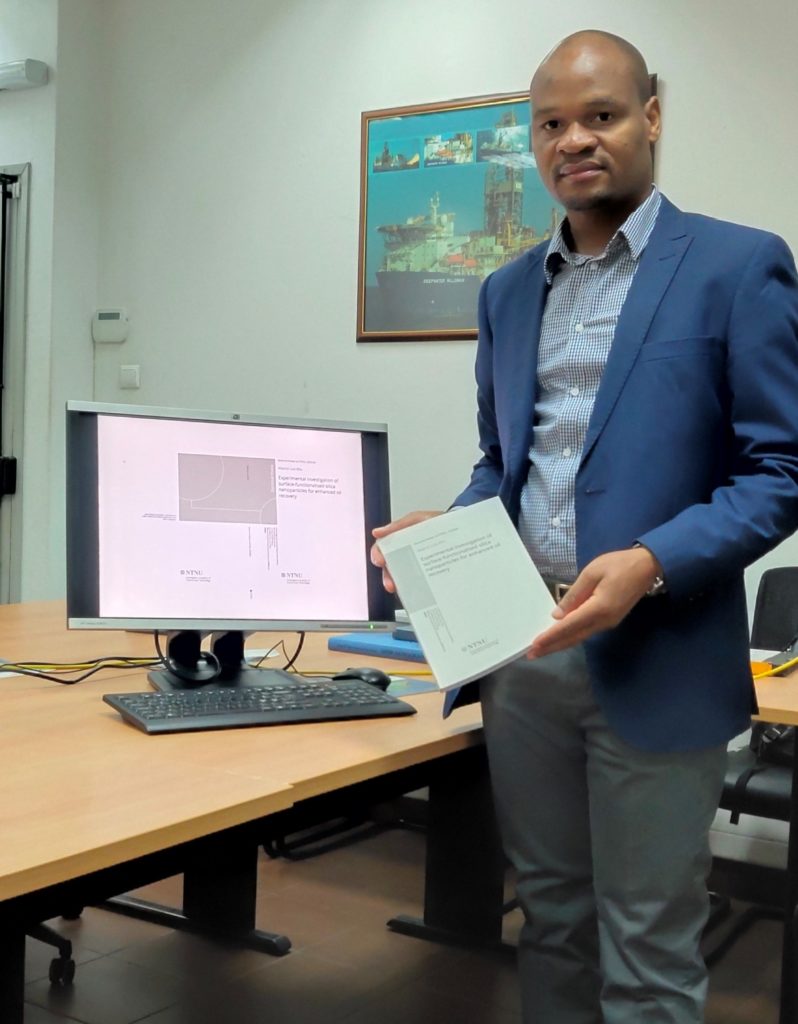 Alberto Luis Bila
Department of Geosciences and Petroleum, NTNU
20 May 2020
Experimental investigation of surface-functionalized silica nanoparticles for enhanced oil recovery
Ole Torsæter and Jan Åge Stensen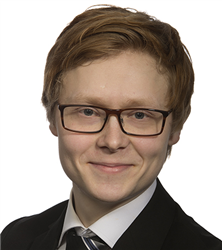 Ailo Aasen
Department of Energy and Process Engineering, NTNU
27 Mars 2020
Bulk and interfacial thermodynamics of mixtures: From aqueous systems to ultracryogenic fluids
Øivind Wilhelmsen and Morten Hammer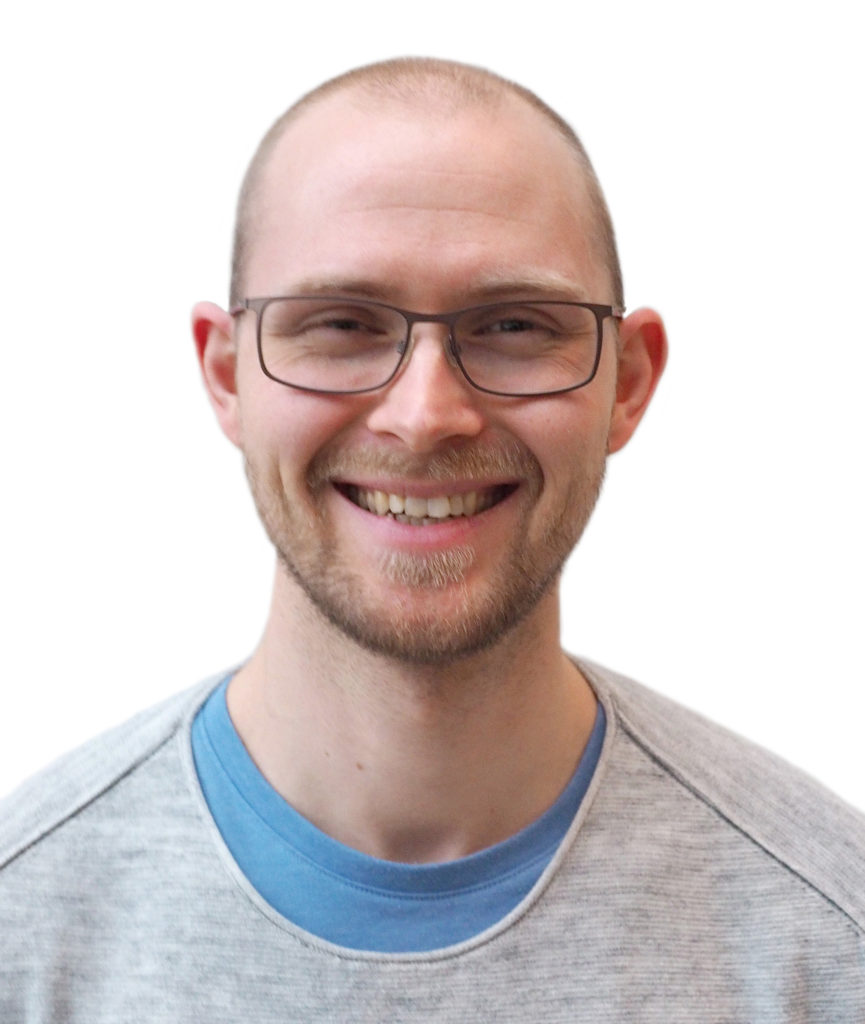 Jonas Tøgersen Kjellstadli
Department of Physics, NTNU
17 December 2019
Local versus equal load sharing in the Fiber Bundle model
Alex Hansen and Asle Sudbø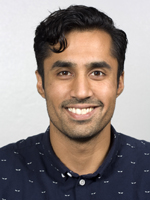 Monem Ayaz
Department of Physics, University of Oslo, Department of Physics and Engineering, University of Strasbourg
16 December 2019
Experimental and numerical investigation of cluster morphologies and dynamic during biphasic flow in porous media
Renaud Toussaint, Gerhard Schafer and Knut Jørgen Måløy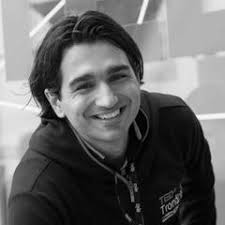 Bahador Najafaziar
Department of Geosciences and Petroleum, NTNU
13 December 2019
HyGreGel: a new class of gel systems for water diversion by in-depth reservoir placement
Ole Torsæter, Torleif Holt and Jan Åge Stensen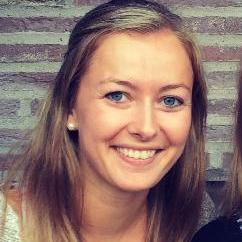 Reidun Cecilie Grønfur Aadland
Department of Geosciences and Petroleum, NTNU
5 December 2019
Experimental study of flow of nanocellulose in porous media for enhanced oil recovery application
Ole Torsæter and Kristin Syverud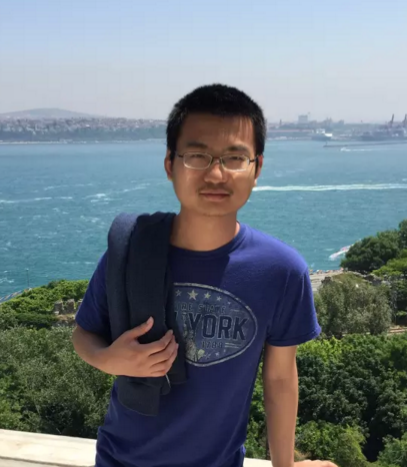 Le Xu
Department of Physics, University of Oslo
21 June 2019
Experimental observations of dissolution in fractures in circular geometry
Knut Jørgen Måløy and Eirik Grude Flekkøy