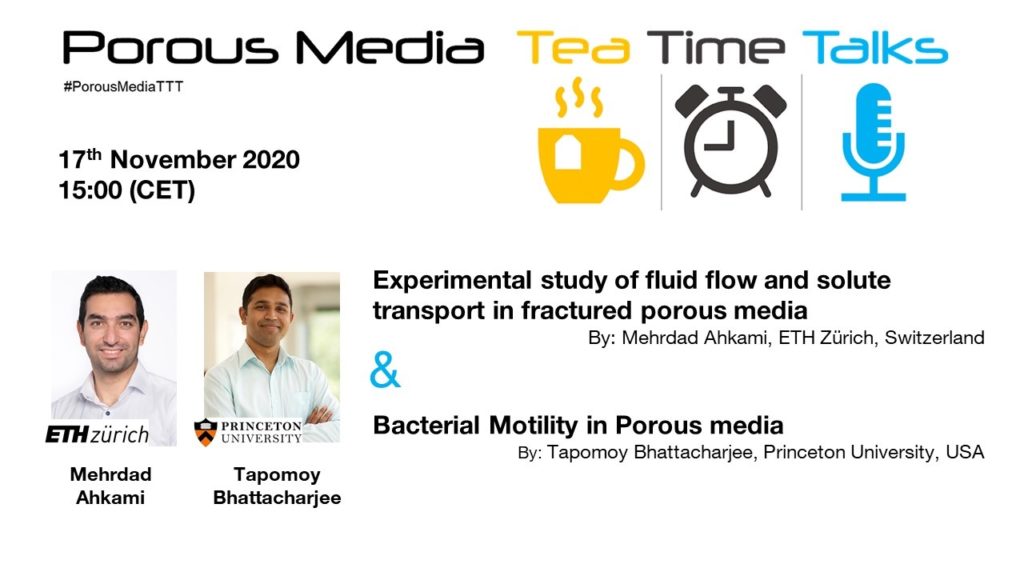 The PorousMediaTTT team is happy to invite you to the last Porous Media Tea Time Talks (#PorousMediaTTT) session for this year on  17.11.2020 at 15.00 Oslo / local time on: https://www.youtube.com/channel/UCuK0ogQKdSxq6pW-vljLN1Q.
The two presentations are:
Experimental study of fluid flow and solute transport in fractured porous media
By: Mehrdad Ahkami, ETH Zürich, Switzerland
Application of 3D-printing for pore-scale studies
Utilising imaging techniques such as Particle Image Velocimetry (PIV), Magnetic Resonance Imaging (MRI), Laser-Induced Fluorescence (LIF) to study pore-scale processes
Exploring theories, using direct measurements of fluid flow and solute transport
and
Bacterial Motility in Porous media
By: Tapomoy Bhattacharjee, Princeton University, USA
While bacterial motility is well-studied on flat surfaces or in unconfined liquid media, in environment and energy applications, most bacteria are found in disordered porous media, such as soils, sediments, and subsurface formations.
Understanding how porous confinement alters bacterial motility is therefore critical to processes ranging from fouling of oil reservoirs, sustaining plant growth, and remediating contaminants in soil.
We are using a novel experimental platform to study how bacteria explore 3D porous environments, how confinement alters their spreading, and how cellular chemotaxis controls their collective migration.
the PorousMediaTTT team:
Catherine Spurin, Imperial College London, UK
Maja Rücker, Eindhoven University of Technology,
Kamaljit Singh, Heriot-Watt University, UK
Tom Bultreys, Ghent University, Belgium
Mohammad Nooraiepour, University of Oslo, Norway
Marcel Moura, PoreLab, University of Oslo, Norway