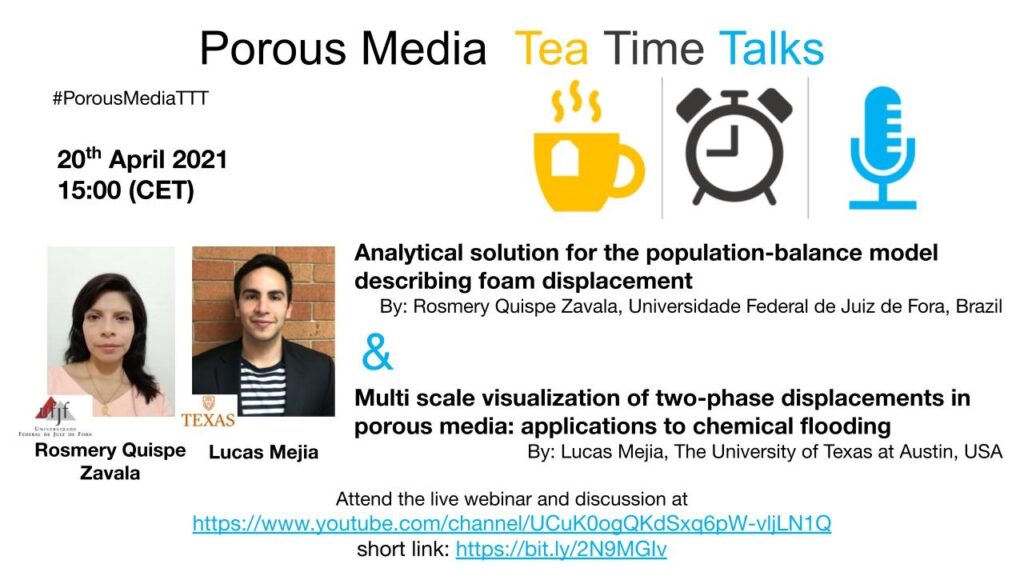 The PorousMediaTTT team is happy to invite you to the 18th session of the Porous Media Tea Time Talks (#PorousMediaTTT) on 20th April 2021 at 15:00 Oslo time via live stream on our YouTube Channel: 
https://www.youtube.com/watch?v=2C7taEoei5g&ab_channel=PorousMediaTeaTimeTalks-PMTTT  
The two presentations are:
Analytical solution for the population-balance model describing foam displacement By Rosmery Quispe Zavala, Federal University of Juiz de Fora, BR
In this work, we managed to adjust the model used to successfully describe the experiments allowing us to find analytical solutions;
This work was elaborated to explain an experiment;
This work was published on 9th April 2021.
 Multi scale visualization of two-phase displacements in porous media: applications to chemical flooding By Lucas Mejia, The University of Texas at Austin, USA
We visualize displacement of oil by aqueous polymer and surfactant solutions in glass micromodels at the µm and cm scales to evaluate novel chemicals and test existing models;
During polymer flooding, irreducible water may destabilize displacements at very favorable viscosity ratios and small injection velocities;
     During surfactant flooding, surfactant concentration around an oil-bank is not fully described by fractional flow: some surfactant is present ahead of the oil-bank
The Porous Media TTT's goal is to act as a complementary platform to the Geoscience and Geoenergy webinars, focusing on PhDs and young professionals. The 30 min webinar, including two presentations (2 x 10 + 5 min) from speakers of different institutes, will occur fortnightly at varying times to accommodate researchers from around the world.
Please feel free to share and forward the invite. We are very much looking forward to seeing you online!
Best wishes, the PorousMediaTTT team:
Nara Brandão, Federal University of Uberlândia, Brazil
Mohammad Nooraiepour, University of Oslo, Norway
Maja Rücker, Eindhoven University of Technology, NL
Kamaljit Singh, Heriot-Watt University, UK
Catherine Spurin, Imperial College London, UK
Marcel Moura, PoreLab, University of Oslo, Norway
Arjen Mascini, Ghent University, Belgium
Javier E. Santos, The University of Texas at Austin, USA