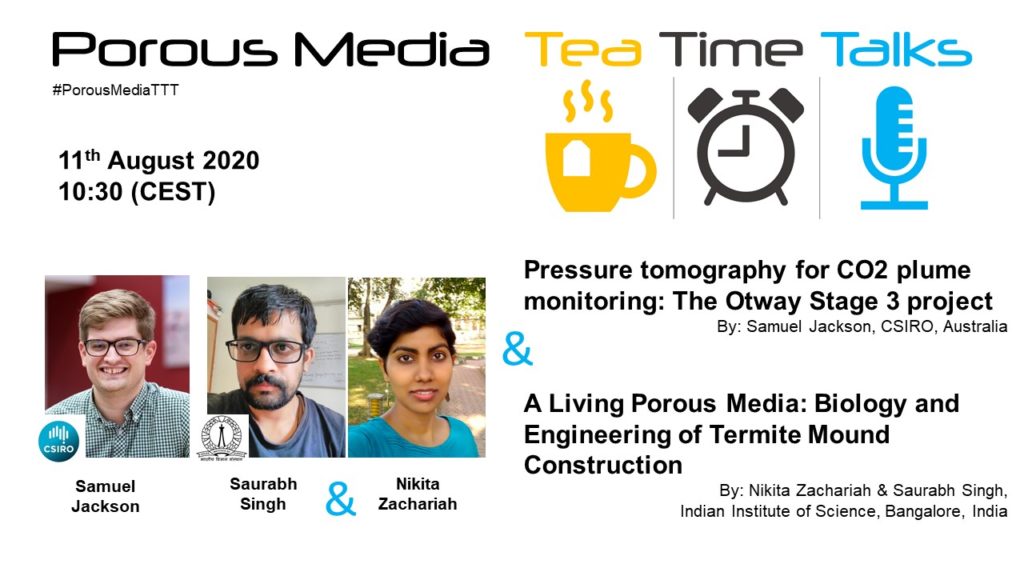 We are happy to invite you to our next Porous Media Tea Time Talks (#PorousMediaTTT) session at 11.08.2020 at 10.30 am Oslo Time/local time on: https://www.youtube.com/channel/UCuK0ogQKdSxq6pW-vljLN1Q​.
The two presentations are:
Pressure tomography for CO2 plume monitoring: The Otway Stage 3 project
By: Samuel Jackson, CSIRO, Australia
CO2CRC's Otway Stage 3 project is developing permanently deployed, real-time, downhole monitoring solutions for CO2 storage.
As part of this effort, the CSIRO science team are developing pressure tomography methods, which utilise the Bayesian inversion of time-lapse, cross-well pressure tests from subsurface monitoring wells. The method permits the depth-averaged spatial mapping of aquifer properties and, with repeat water injection tests, the CO2 plume evolution.
This presentation will talk though the theory, modelling and Bayesian inversion approach. The method is presented in light of the 5 new wells completed at ~1.5km depth at the Otway site, and concludes with recent results from the first stages of the field-experiment.
and
A Living Porous Media: Biology and Engineering of Termite Mound Construction
By: Nikita Zachariah & Saurabh Singh, Indian Institute of Science, Bangalore, India
Termite mounds are porous earthen structures built by termites for ventilation of their underground colonies.
These mounds have a bi-layered architecture with a dense core that provides strength, and porous peripheries that facilitate regulated gaseous exchange.
Termite make these mounds by depositing 'bricks' made by mixing moist soil with their secretions — the moisture imparts strength to the soil and the secretions impart weathering resistance.
The goal of the Porous Media TTT is to act as a complimentary platform to the already very successful Geoscience and Geoenergy webinars with the focus placed on young professionals.
This year is bringing in many new challenges to the worldwide porous media community, and those challenges can be particularly harsh against those of us at an early career stage. As conferences worldwide are being cancelled or postponed, many of us are found with little practical outlet to advertise our recent work and interact with the broader scientific community. With that in mind, we, a team of 5 young porous media researchers from 5 different groups, have decided to create a virtual outlet, the Porous Media Tea Time Talks to help fill in that gap in form of a regular webinar.
The 30 min webinar, including two presentations (2 x 10 + 5 min) from speakers of different institutes, will occur fortnightly at varying times to accommodate researchers from around the world.
Please feel free to share and forward the invite.
We are very much looking forward to seeing you online!
Best wishes, Marcel Mouyra on behalf of the PorousMediaTTT team:
Maja Rücker, Imperial College London, UK
Kamaljit Singh, Heriot-Watt University, UK
Tom Bultreys, Ghent University, Belgium
Mohammad Nooraiepour, University of Oslo, Norway
Marcel Moura, PoreLab, University of Oslo, Norway