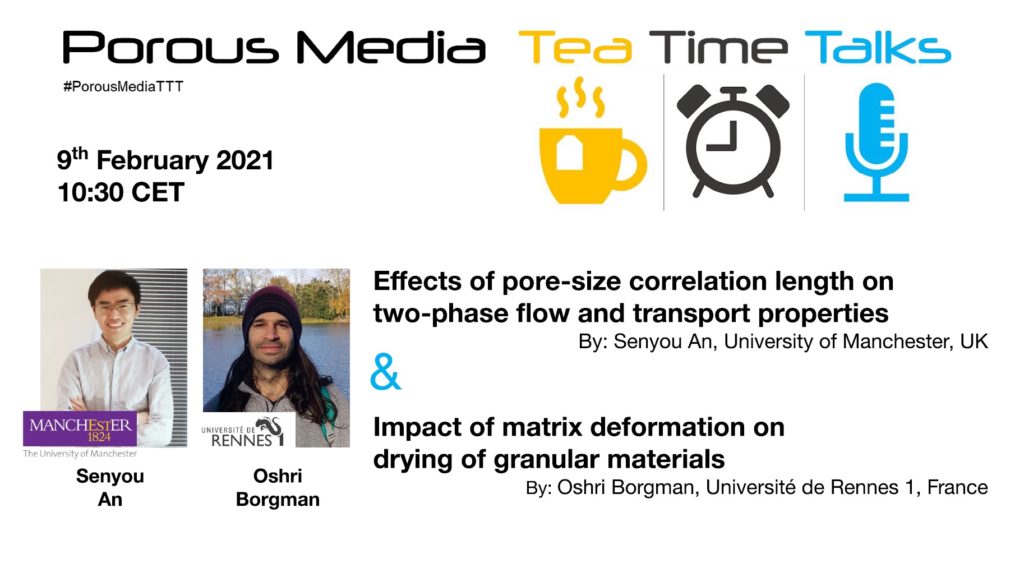 The PorousMediaTTT Team is happy to invite you to the first Porous Media Tea Time Talks of 2021 (#PorousMediaTTT). The session will be on 9th February 2021 at 10:30 Oslo time localtime on: https://www.youtube.com/channel/UCuK0ogQKdSxq6pW-vljLN1Q .
The two presentations are:
Effects of pore-size correlation length on two-phase flow and transport properties
By: Senyou An, University of Manchester, UK
The generation of pore network with specific statistic information.
How the pore-size correlation length affects two-phase flow and transport.
A semi-analytical equation for the estimation of mass transfer across porous media.
and
Impact of matrix deformation on drying of granular materials
By: Oshri Borgman, Université de Rennes 1, France
We study drying in deformable granular media by coupling a pore-network model for fluid displacement and a micro-mechanical model for grain displacement
We capture the impact of grain displacement on the emergence of preferential drying patterns
Lower pore size heterogeneity and lower confining stress of the granular material promote preferential drying and maintain higher drying rates
The PorousMediaTTT Team is:
Maja Rücker, Eindhoven University of Technology, NL
Catherine Spurin, Imperial College London, UK
Kamaljit Singh, Heriot-Watt University, UK
Tom Bultreys, Ghent University, Belgium
Arjen Mascini, Ghent University, Belgium
Mohammad Nooraiepour, University of Oslo, Norway
Marcel Moura, PoreLab, University of Oslo, Norway
Nara Santos, Federal University of Uberlândia, Brazil
Javier A. E. Santos, University of Texas at Austin, USA