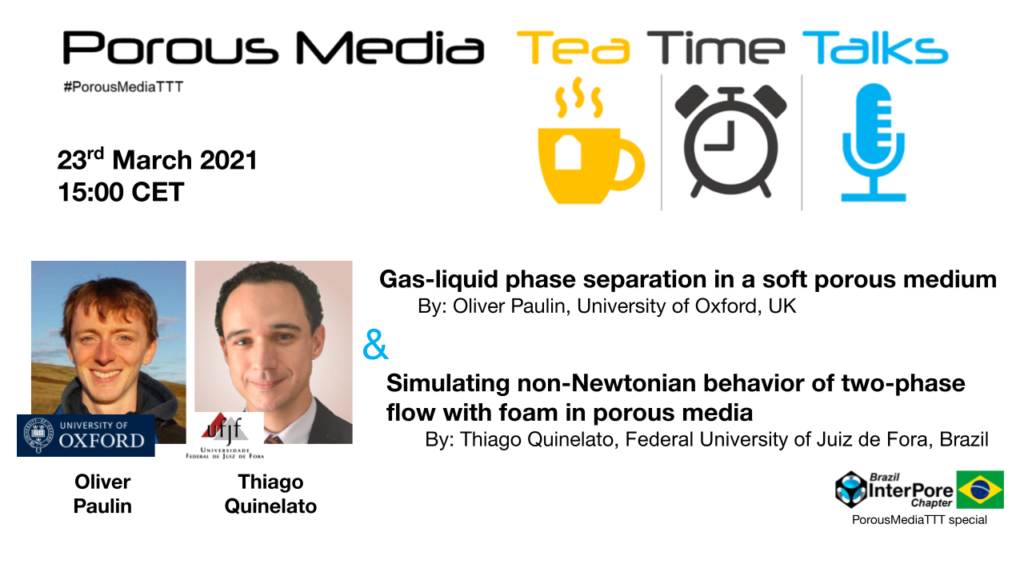 The PorousMedia TTT Team is happy to invite you to the 16th session of the Porous Media Tea Time Talks (#PorousMediaTTT) on 23 March 2021 at 15:00 CET via live stream on our YouTube Channel: 
https://www.youtube.com/watch?v=ePzpUjlH5p8
The two presentations are:
Gas-liquid phase separation in a soft porous medium By: Oliver Paulin, University of Oxford, UK
Various natural processes result in the growth of gas bubbles within otherwise liquid-saturated granular packings
These bubbles are typically non-wetting and can open macroscopic cavities in sufficiently soft packings
We have developed a continuum model which captures this cavity formation in soft porous systems
 Simulating non-Newtonian behavior of two-phase flow with foam in porous media By: Thiago Quinelato, Federal University of Juiz de Fora, Brazil
Foam injection is an EOR technique that can be applied to mitigate fingering effects observed in the flow of fluids with different mobilities
We developed FOSSIL (a FOam diSplacement SImuLator). The effort in its development paid off in the form of increased flexibility
FOSSIL is being used in complex scenarios, including non-Newtonian behavior, gravity and compressibility effects, and heterogeneous media
The Porous Media TTT's goal is to act as a complementary platform to the Geoscience and Geoenergy webinars, focusing on PhDs and young professionals. The 30 min webinar, including two presentations (2 x 10 + 5 min) from speakers of different institutes, will occur fortnightly at varying times to accommodate researchers from around the world.
Please feel free to share and forward the invite. We are very much looking forward to seeing you online!
Best wishes, the PorousMediaTTT team:
Mohammad Nooraiepour, University of Oslo, Norway
Maja Rücker, Eindhoven University of Technology, NL
Kamaljit Singh, Heriot-Watt University, UK
Catherine Spurin, Imperial College London, UK
Marcel Moura, PoreLab, University of Oslo, Norway
Arjen Mascini, Ghent University, Belgium
Nara Brandão, Federal University of Uberlândia, Brazil
Javier E. Santos, The University of Texas at Austin, USA